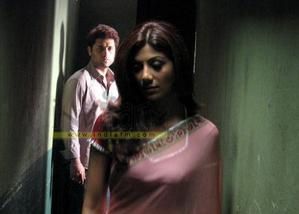 Hindi, Drama, 2007

Well, the movie is about Life in a Metropolitan city but it looks like it's a life in a train because even the editor was so confused that he did not know whose love story to show when, as story was riding in so many coaches.

The movie is full of love stories; and there were so many that even script writer cannot count. Though I will not say that such things do not happen in India. But yes it was too much exaggerated version of everything. The film fails to show the psychology of single woman or that of a married lady who is not satisfied with her husband.

The movie starts with Konkana Sen and Irfan Khan, the very first scene embraces every male out there in the theater especially those who came with a female; it was totally unwanted for when camera moved towards the Body of Konkana Sen. Though there were some light moments in the movie because of these two and trust me if the script would have focused around these two with only 90 minutes movieor so, it would have been a great movie to watch for.

The very next scene is that of Shilpa Shetty and Shiney Ahuja; though both are smart and they really looked great together but the story failed to explain the relationship between the two and nowhere was this mentioned that why Shiney a married man wants to go to Dubai for a job with Shilpa, a married lady.

Then comes the embarrassing scene number two, when 2 unknown artists are indulged in bed with lots of groan and then comments from the neighbor's wife to her husband, and then starts a trail of how relationships are made in Big Cities. Lots and lots of extra-marital relationships.

The movie showcases some good things in the form of relationship between Konkana and Irfan. The duo of Shiney and Shilpa has also done some justice to the film. But the love story between Dharmendra and Nafisa Ali was shown as a chaste one initially but when an intrinsic scene between the two came up the movie lost out totally on moral grounds.

Kanghna Raunat has still a long way to go before taking such roles which require lot of emotions. Her cute face was not helping her in any way.
The music of the film is perhaps only good thing for the movie, the three guys popping up every now and then with their songs keep the rhythm going.

All in all it is a movie which has very little to boast of, the story was missing, the concept was missing. Though some individual performances helped the people to stick to their seats.
Don't watch it with your parents or even girlfriend or wife, if you do not want to get embarrassed.

Rating 3/10